I was worried about the uber driver. Worried about me. Worried about the woman who had a cigarette stowed in her hand and driving a mini cooper next to us in 405 interstate highway. Google maps on the driver's dashboard showed 11 more miles to the airport. Today was yet another rainy day(61% chance of rain, the weather app on my phone accurately pointed) in Seattle. This past weekend was the start of fake summer. Yes, memorial day weekend kicks off summer flicks and vacations, although summer usually arrives much later in Seattle. At least the first rose(rich yellow) bloomed in my front yard, I saw that after coming back from a trip to Port Angeles for the long weekend. Rosy digressions aside, the song on my ears was about 3 minutes and 27 seconds long. If the driver took a minute to drive a mile I could listen to the song roughly 3.3 times. That would push the total listen count past 600. Yeah, 600++ times, conservatively counting.
I was worried about the driver and the woman as they probably wouldn't get a chance to hear this song in their lives. It was mesmerizing, slightly hypnotic, kinda psychedelic, kinda trippy and completely engrossing. I was worried about me as I was getting mad about the song. The song – Orey Oar Ooril from Baahubali 2. You, just like me, probably saw and heard it for the first time on-screen while watching the movie. And if you are still trying to recollect the song, its also called Hamsa Naava in Telugu, Veeron ke veer aa in Hindi, Ore Oru raja in Malayalam, <something> in Mandarin and Madness Me in English(nah, I'm kidding now!).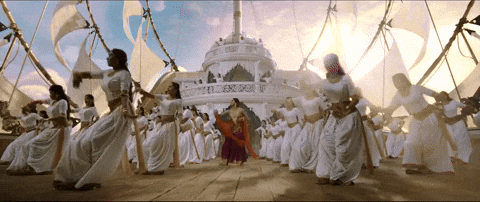 Amarendra Baahubali arrests his love interest, the princess Devasena as a token of respecting Raajamatha RamyaKrishnan's words to take her back to Magizhmathi and the ship sets sail. The sailcloth expands into a symmetrical shape on either side, the camera closes in on Devasena who is technically a prisoner but also a prisoner in the heart of Baahubali. As she throws the pink pixie dust into the ocean, the ship transforms into a fantasy fleet. Amarendra, who is now drumming, to his part throws in some blue pixie dust that makes the ship rise above the clouds. This is where Rajamouli's craziness starts to show up. As though a flying ship isn't crazy enough things get pushed a bit too far and the clouds get converted into white horses that run along with the flying ship. 40 odd dancers belonging to both genders appear and the scene is all set-up for romance. A medieval flying ship, a tricky prisoner-cop situation between the protagonist to-be king and his lovely princess, cloud horses, dancer women and some mind blowing music. Here's how the music goes at a closer look –
0:00 – 0:35 – The music starts off low-key, slowly fading in with some bells and plates clanging far away. At 0:08 the Mohana starts to slightly hint the ohhohhhoh humming and at 0:14 the rhythmic drumming starts to join in. Stop here.
At first I didn't know why this drumming was so jiving and mesmerizing. It took me a good 10 times to understand. When I was 10, we used to go on summer vacation to Trichy. It was either through Chozhan or Malakottai express. And as the train nears Trichy, somewhere near Srirangam, it crosses the kollidam bridge. Being one of India's longest bridge, we used to wait for the bridge crossing to come by. And when it crosses it used to make a kind of pleasant clickety-clackety sound. Pleasant because it announced the arrival of vacation for an urban dweller like me. The usual clickety-clackety of a train is amplified while crossing bridges and the sound is super cool. The drumming in OreyOarOoril reminded me of the clickety-clackety train crossing kollidam bridge. From here the drumming continues all the way to the end. That could have been the only reason why I fell in love with the song. But there's more.
As the train noise drumming goes on, at 0:21 the nana nana nana nana nananananana of Mohana and the harmony team starts. This nana sound is key for the song as the lyrics depend on every other line ending with an 'na' based word. I don't know if this sound found its place by itself or if was by design, it elevates the musical quality of the song.
0:35 – 1:12 – The lyrics start with the pleasant Orey Oar Ooril, kind of like a fairy tale beginning (once upon a village, there lived a king). Between every phrase, you hear the fish plates sound of the train tracks as the train passes over them. So does this love ship. Now we get to know that this song belongs to Devasena. Its from her point of feelings. Every line ends with a question indirectly posed to Baahubali. Something like – this Devasena is like a struggling ferry in middle of a river, will he come to hold me up? In the next line she talks about how she is a prisoner of Baahubali (literally and figuratively).
1:12 – 1:40 – A tiny but a lovely interlude of violin or some modern string instrument comes in only for it to be taken over by the trumpets and a grand sounds of a ship fleet crossing the ocean. This is place where the sheer grandness of the song is established. You know the song is already transported to a different world.
1:41 – 2:08 – So we are right at the midpoint of the song and the first charanam of the song starts with Devasena and Baahubali both sharing the lyrics equally(Mohana for Devasena and Tippu for Baahubali). Devasena puts forth a romantic question to clarify if she is in a dream state and Baahubali responds like a true warrior prince. Metaphors starts to show-up and things gets heated up.
2:09 – 2:26 – Devasena starts a loud pitched ohhohhhoh followed by an amazing piece of poetic verse. In order to not spoil this by translating, she asks – ekantha kaalam maatrinana, thee pola en meedhu patrinana, theekolamai devasena. Your lyrical mileage may wary in various languages but in Tamil the imagery is that Devasena is now a burning hot ball of passion for Baahubali. The song reaches its brilliant peak. All the build-up is for this 15 seconds of brilliance. Vairamuthu's son Madan Karky and Maragadamani come together along with Mohana. The tamil lyrics fit the whole scene hand-in-glove expressing the Devasena's side of love towards BB. This culminating effect is mind-blowing when experienced in big screen.
2:27 – 3:00 – The second paragraph is a bit condensed. You get to hear the Orey Oar Ooril pallavi quickly followed by four lines of a new charanam. Devasena concludes that she is now under the spell of Baahubali, blindly following him and speechless.
3:01 – 3:27 – The clickety clackety and the nananananana continues to fade out and things wrap-up.
It's not often that I go mad for a single song but it's also not so uncommon. Maybe one per year is my average. First it was Vellai Pookal from Kannathil Muthamittal, then it was Oh Eesa! from Aayirathil Oruvan, Dhan te Nan from Kaminey, Manipaaya from Vinnaithandi Varuvaaya, Asku Laska from Nanban, Kanukkul Pothivaippen from Thirumanam Enum Nikkah and recently Parandhu Sella Vaa from OK Kanmani. All these songs attack you at different level of lyrics, music and singing quality.
With this particular song it is the fantasy situation of the song in an already fantasy movie. Fantasy movies are always tricky. You either believe it or don't. The reason a fantasy movie works for you is purely based on whether you take this leap of faith or not. All the ones who took the leap in Aayirathil Oruvan thoroughly enjoyed it, same with ET or King Kong or Baahubali. You either question how a bunch of untrained soldiers catapult into the fort using the Angry Birds formula or you just don't. I loved the movie completely. Even more so the song. 700+ and counting now…